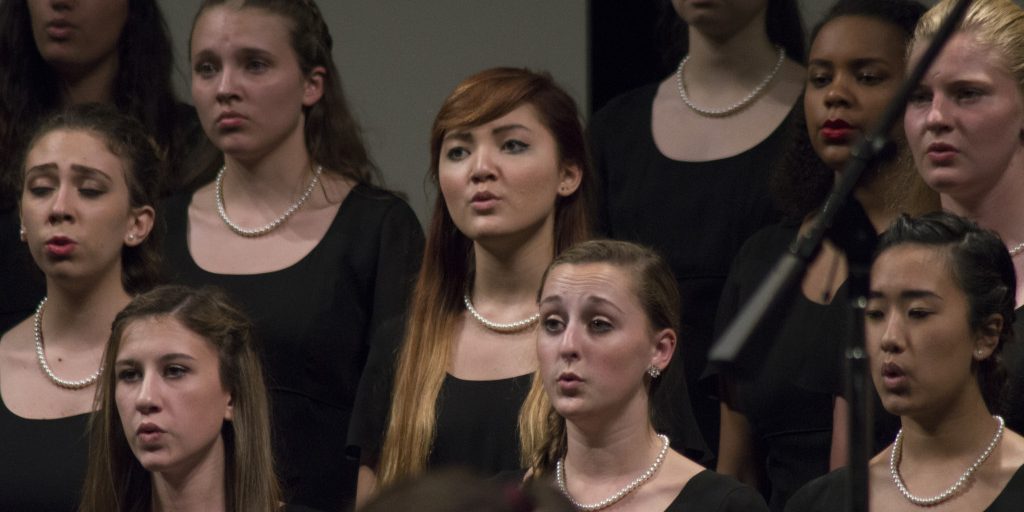 As stated in the course syllabus, students will be expected to present a professional appearance for every performance. This is standard throughout FCPS Music Programs.
But beyond the requirements for the programs, appropriate attire and uniforms have other benefits for our emerging performers at South Lakes Chorus. For example:
The bottom line is that performance attire is more than just wearing the right gown or suit. The clothes you wear have an amazing influence on your state of mind and how your audience responds to your work.
See below for our uniform standards and how to get your uniforms ordered in time for our first performance.
Our first concert is on October 17, 2018.
All Chorus students MUST have their uniforms by then.
For general uniform questions, please contact Mitsuyo Sprague at msprague61@outlook.com.
Uniform fees are in addition to the Chorus Course Materials fees.
If you have any questions and/or concerns about these fees, please contact our Choral Directors as soon as possible.
Rita Gigliotti: ragigliotti@fcps.edu
Susan McCormick: smccormick@fcps.edu
Uniform Requirements & Instructions for Female Students
New Students
---
All female uniforms will be ordered through South Lakes High School. and there is a one-time fee of $75 for all new female students.
The Uniform fee: One-time payment of $75 (all new students) is for gown, garment bag, knee highs and pearls (to be kept at school.) Payments can be made online through MySchoolBucks, or you may send in with your student a check made out to SLHS.
How to pay for the dress through MySchoolBucks
Login to MySchoolBucks
Go to "School Store"
Click on "Browse All Items"
Select "Choir Uniform Dress"
Select your student's name, which will be the only name you will see
Add to the Basket
Check out and Pay
Gown Fittings
All new students (and returning students who may need a new gown) will try on different sizes and select the best fitting option.  Fittings will be conducted in the Girls' Dressing Room.
Thursday, 8/30 (1) 9:45 am – 11:30 am & (2) 12:45 pm – 2 pm
Thursday, 9/6 (1) 9:45 am – 11:30 am & (2) 12:45 pm – 2 pm
Alterations
Students must arrange/pay for alterations themselves.
Students will not receive their gowns until payment has been made to SLHS.
Gowns should be hemmed at 2 ½ inches above the floor with students wearing their concert shoes (flats or up to 2" heels) on.

Students will need to bring the shoes they will wear for concert to the appointment for fittings.
Shoe heels should not exceed 2 inches. Flats are preferred.

A list of approved Alterations Services & instructions will be provided with the gowns. Please get fitted in a timely manner (don't wait until it's, well, too late)! The concert is on 10/17!
The cost is around $25 -$35.
Returning Students
---
Gown fittings will be conducted on Thursdays, 8/30 & 9/6 in the Girls' Dressing Room. Please come at this time to be re-fitted if needed.
Option 1: We do have a few gowns in inventory.  You may bring in your old gown recently dry cleaned and with plastic still on it to see if we could provide an exchange.
Exchanges will be provided on a first-come, first-served basis.
If alterations are necessary, you will need to arrange and pay for the service yourself.  (See the information under New Students.)
Option 2: If an exchange cannot be made, you will need to order a new gown.
The cost is $75.  Please pay through MySchoolBucks (as shown under New Students) or by a check made out to SLHS.
You will need to arrange and pay for alterations yourself (see under New Students).
Uniform Requirements & Instructions for Male Students
Men wear tuxedos for our performances and students should order new uniforms or replacements through Metropolitan Formalwear. All new students must order a full tuxedo. Returning students may order replacement components.
Metropolitan Formalwear has notified us that they are not able to provide hemming for the pants this year.
Students will need to take their pants to any cleaners or tailor shop and get the pants hemmed.
The cost of hemming should be around $8.
The original price for the pants ($38) has been reduced by $8.48 (hemming for the pants + tax.)
Pricing
A full tuxedo with alterations and tax is $150.52. If only a component is needed, see the breakdown:
| Item | Price | Tax | Total |
| --- | --- | --- | --- |
| Jacket | $65 | $3.90 | $68.90 |
| Pants (unhemmed) | $30 | $1.80 | $31.80 |
| Shirt | $18 | $1.08 | $19.08 |
| Black Vest | $25 | $1.50 | $26.50 |
| Black Bow Tie | $4 | $0.24 | $4.24 |
| Total for Complete Tuxedo | | | $150.52 |
Tuxedo Fittings:
By appointment only.
Call Mr. Ishu and make an appointment for fittings at 202.390.6633 or 703.505.8074
Fittings must be done by 9/25, or tuxedos might not be ready in time for our 10/17 concert.
Pay Metropolitan Formalwear in full at the time of fitting or minimum half down (no refunds.)
Mr. Ishu will contact you to arrange for pick-up.