Rita Gigliotti – Director
11400 South Lakes Drive, Reston, VA 20191
ragigliotti@fcps.edu
Rita Gigliotti is sought after as a choral clinician, director, adjudicator and singer. She joined the South Lakes High School faculty in 2005. Since then the South Lakes Choral Department has more than doubled in size and has received overwhelming acclaim. She has been teaching music in the public school system for sixteen years.
Gigliotti has been formally studying music for 30 years and has been passionate about being a choral director since she was ten years old. She currently directs five choirs and sponsors three student directed a cappella groups along with the Tri-M Music Honor Society Chapter 2946. Choirs under her tutelage consistently earn superior ratings and are regularly invited to perform with guest artists, university choirs, for state and national music festivals, WNBA & NBA games and for corporate galas and events. Her advanced women's ensemble, Bella Voce, was selected to perform for the Virginia Music Educators Association Fall 2011 In-service Conference and her Chamber Singers performed with 6 time GRAMMY nominated Jazz artist, Nnenna Freelon in January 2012.
Gigliotti earned a Master of Music in Music Education from Duquesne University, Pittsburgh, Pennsylvania (2005), and a Bachelor of Music in Music Education/Voice from Seton Hill University, Greensburg, Pennsylvania (2001). She graduated magna cum-laude from both universities and was in the honors program at SHU, where she was also awarded the Program in Music Award for Outstanding Achievement and Excellence in Music. Her Master's Thesis: The Virtual Choral Laboratory, an online music curriculum, focused on using web based music technology to enable practice methods for vocal music students. This project was also awarded a mini grant which purchased music technology resources for middle school students in Pennsylvania, where Gigliotti began her professional career in 2001.
In addition to being a high school choral director, Gigliotti performs professionally throughout the Washington DC metropolitan area as a vocalist and continues to study voice and teach privately. Gigliotti is a professional member of the Fairfax County Choral Directors Association (currently serving as President), American Choral Directors Association, Virginia Music Educators Association, Contemporary A Cappella Society of America, and National Association for Music Education.
Learn more about Mrs G and her core philosophies.
---
Julie Longmire – Accompanist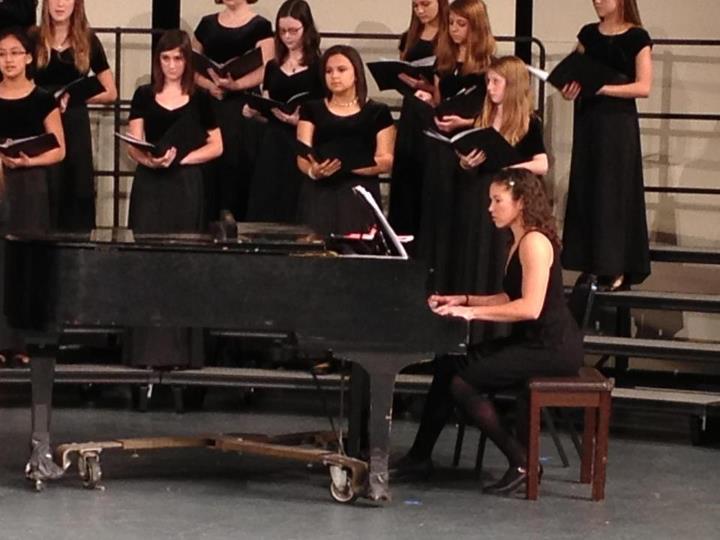 Julie Longmire holds a Master's Degree in Music Theory from The University of North Carolina at Greensboro(UNC-G) and a Bachelor's Degree in Piano Performance from James Madison University in Harrisonburg, Virginia. Mrs. Longmire worked as a Lecturer in Music Theory at UNC-G before moving back to the Northern Virginia area to open a private piano studio, where she offers instruction in both classical and popular styles.
Mrs. Longmire is a member of the Virginia Federation of Music Clubs and the American College of Musicians, and her students participate in the VFMC Festivals and National Guild of Piano Teachers' auditions in the spring, as well as local recitals and competitions. Her professional activities include judging, accompanying choirs and soloists, and performing popular music at local venues.