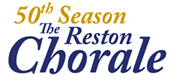 The Reston Chorale invites Northern Virginia high school and college vocalists to audition for the Robert E. Simon Jr. Music Scholarships.
Scholarship recipients will sing with The Reston Chorale for the 2016-17 Season. In addition to financial awards, selected students will receive music and formal concert attire for the season.
Scholarship Awards
High School Students: Up to $300 annually* ($75 per concert segment) for up to four years. Awarded upon high school graduation.
College Students: Up to $500 annually* ($125 per concert segment). Awarded in June.
Audition Dates
Monday, September 12, 2016
Monday, October 3, 2016
Audition Requirements & More Info
Visit www.RestonChorale.org for details on how to apply and audition, as well as program opportunities and expectations.
* Scholarships will be awarded to up to eight students. Financial awards will vary based upon the number of concert segments each student successfully completes and performs during the Chorale's 2016-17 Season.